4 Budget-Friendly Bathroom Design Ideas
What are some budget-friendly bathroom design ideas?
Wood-look porcelain
Zen-inspired
Luxurious black marble
White border tiles
Budget-friendly bathroom design ideas may seem impossible to achieve, but it's not as difficult as it looks. Time and again, interior redecorating culture has seemed to focus on expensive fixtures, furniture, and 6-figure art pieces. You might have been daunted to try out your own remodeling in the past because you simply don't want to start from the ground up and empty out your pocket in the process. Your decades-old bathroom that has begun to be relegated as simply functional space? You might be surprised at the number of budget-friendly and artistic tricks that you can do to bring it back to life.
In this guide, we delve deeper into some affordable design changes you can make to any bathroom. From stunning wood-look styles to a Greek-inspired bathhouse, you're bound to come up with an invigorating bathroom look that will inspire beauty, wonder, and relaxation in everyone who graces its spaces. Check them out!
Wood-Look Porcelain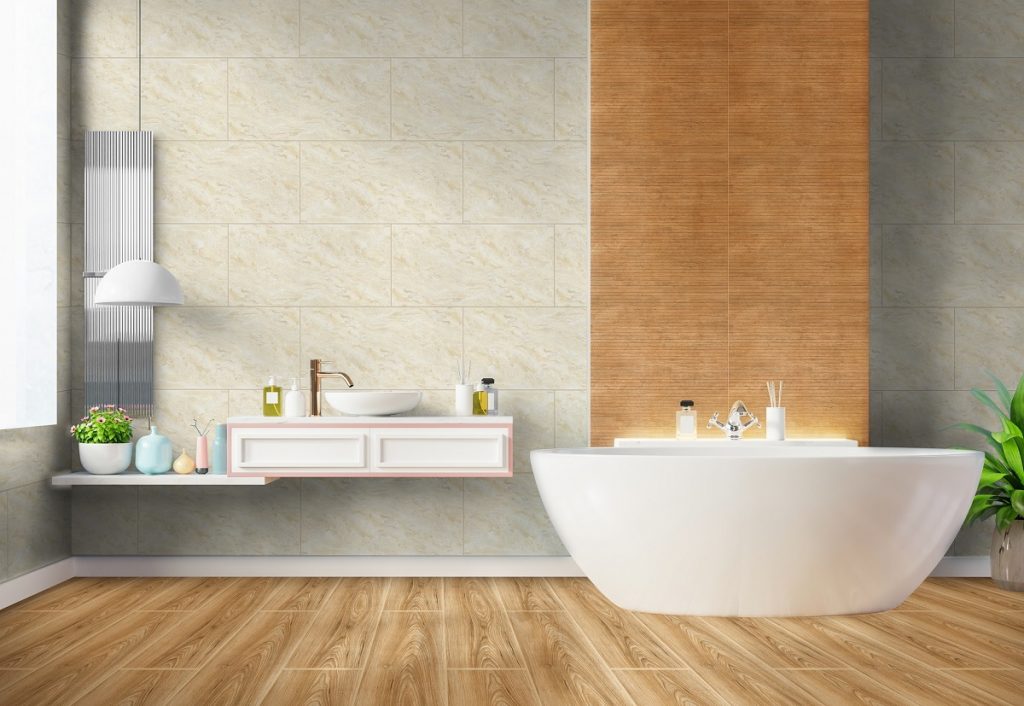 [60×60] P132 + [30×60] MILAN9U + [20×100] AI2I2
When it comes to bathrooms, some colors you may frequently associate with this type of space are blue, aqua, or white — basically anything that's ostensibly relaxing to the average person. However, you'll realize that you can go beyond these colors. This wood-look render, for example, has none of the colors mentioned, but its wood-look features work so well to turn it into a classic, 5-star hotel-worthy space.
To achieve the look, you don't need to completely change the appearance of the bathroom walls. Instead, go for wood-look tiled partial or half-walls that differ from the rest. These tiles also help bring out that rustic bathroom vibe for an all-natural feel.
Try adding a few splashes of color, by choosing decor that comes in pastel shades like blue-green, mint, light green, baby blue, turquoise, and the like. Finish the design by placing a few indoor potted plants — for a naturally gorgeous and refreshing bathroom appeal.
Zen-Inspired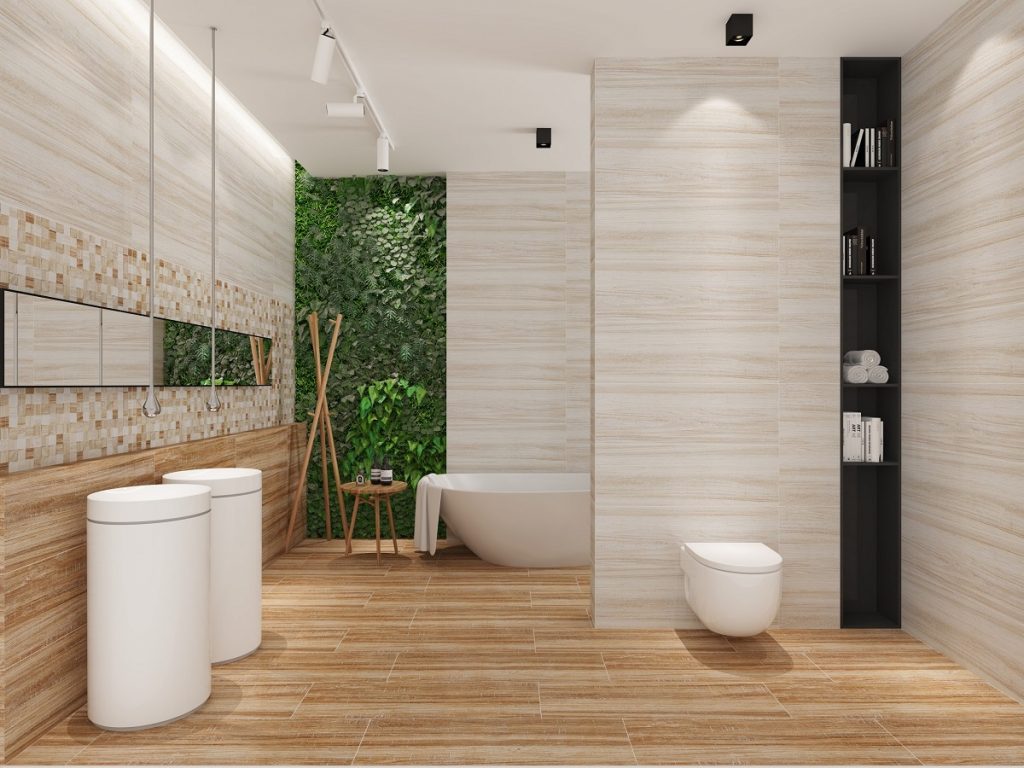 [30×90] G2C-12NPEA + G2C-13NPEA + G2C-14MEA
The Japanese are experts at the Zen way of life. In fact, their unique take on this minimalist philosophy is palpable in almost every aspect of their culture, particularly in interior decorating. Like a breath of fresh air from the usual basic white or barebones bathroom, Zen-inspired designs are definitely the perfect options for a stripped-down, clutter-free, and tranquil look.
First, you'll want to declutter your current bathroom. Get rid of things that don't work anymore — be it those empty shampoo bottles, shrunken soap bars, or that laundry hamper that seems too out of place.
For any bathroom supplies that you do have, try to transfer them into neat little containers to organize the entire space. Replace your aesthetically incompatible laundry basket, soap dishes, and trash bins with white-matte finish additions that offer sleekness and cleanliness to the space.
Finally, add natural decor and installations that can invigorate your bathroom. How about a makeshift wooden hanging rack or a small green wall? These fixtures will easily do the trick for any Zen-inspired space.
Luxurious Black Marble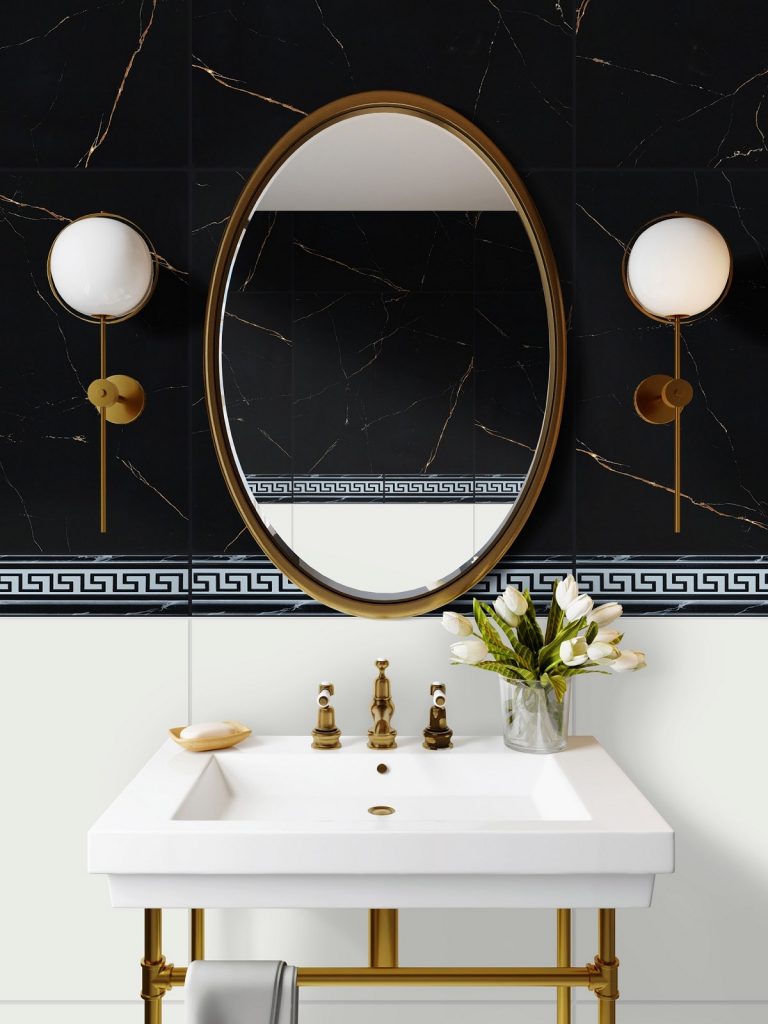 [9.8×30] YF1031 (BORDER) + [60×60] LF6833 + 53XSW6
Contrary to popular belief, a budget-friendly bathroom renovation can be luxurious in style. Take for example this black marble look that's every bit as luxurious. Even something simple as a small vanity area can already be adorned with luxury-inspired decor for a standout bathroom look you'll definitely be proud of.
For example, you can swap out your old, square-shaped mirror into a new, gold-colored vanity looking glass that seems straight out of a classic European bathroom. Bring illumination into the space by choosing vintage-style sconces that can cost as little as 460 pesos from your local online shopping store.
When it comes to affordable, but luxurious bathrooms, keep in mind that you can stick as close to the original as possible without breaking the bank. Do this by finding creative and budget-friendly imitations of an otherwise expensive fixture. Paired with gorgeous black marble-look tiling and a matching meandered design, you'll certainly love this look.
White Subway Tiles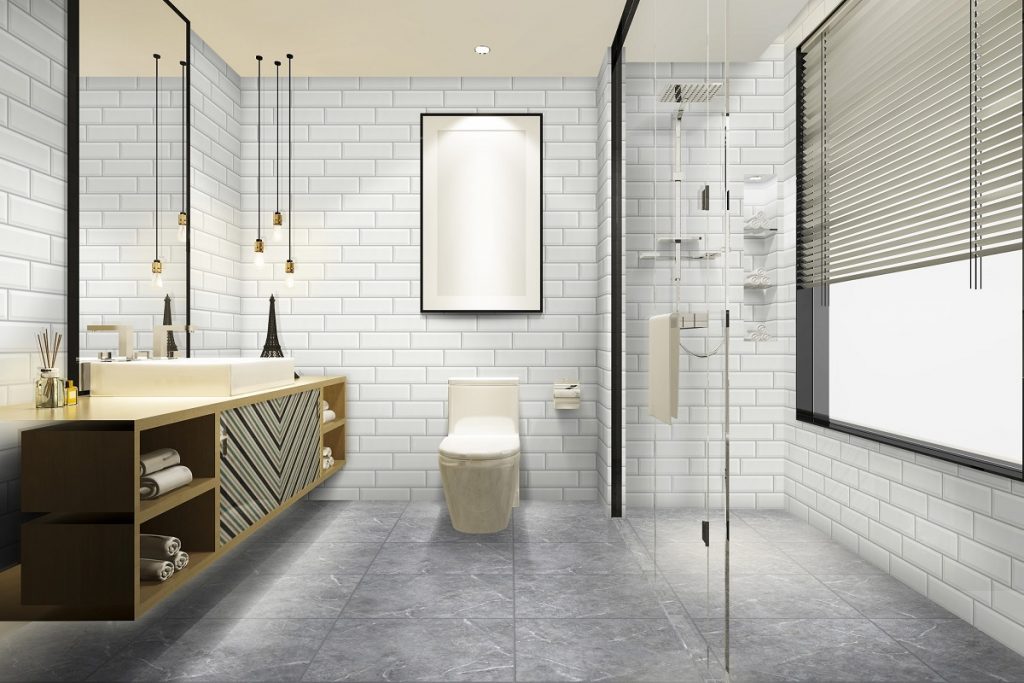 [10×30] 13GAW1 + [60×60] P141-4
Most interior decorators will tell you that white bathroom walls appear cheap and bland — but this isn't always the case. Instead, you can still incorporate this versatile shade with the right material. White wallpapers and wall paints, for example, simply aren't, but white subway tiles can tell a different story altogether.
A unique subway tile design like Floor Center's 13GAW1 can help you come up with your own industrial-style bathroom without having to spend a fortune. For this look, you'll need a few key additions. Metallic pendant lights range only from 500 to 1,000, depending on the style that you choose. You can also include other additions, such as a bathroom corner shelf, a floating storage space, matching blinds, and the like.
Key Takeaway
This guide rounds up 4 styles for you to do on your own. Keep in mind that an affordable bathroom redesign doesn't have to look cheap — it's all about choosing the right fixtures, renovating small areas, and making a few changes here and there.
Ready to start your own affordable interior redesign? Check out our blog for style inspirations, tile guides, and styling tips! You're also invited to join our FC Tile Viber Community Group! Be the first to know the latest tile tips, tricks, and trends — all in the comfort of your fingertips.